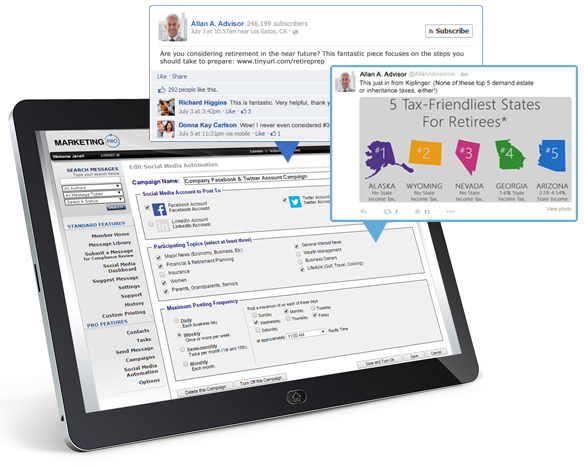 MarketingPro
+ Social Media Automation
Manage your entire social media presence in one place with pre-written post content and automated social campaigns.
Add Social Media Automation to your MarketingPro account to take your social media presence to the next level in record time. Easily link your various social media accounts (Facebook, LinkedIn, Twitter), then create automated social campaigns by selecting what types of messages you'd like to post, where, when, and how often. The system offers a minimum of ten new text-based social media posts per week, and 15 social media images per month. You can post new content every day, if you like, without lifting a finger.
It's everything you need to create and manage an engaging, compliance-friendly social media presence.
Scroll down to learn more.
Pre-crafted posts and images
to keep your friends and followers engaged.
Each week we post a minimum of 10 new 140-character or less text-based posts on a variety of topics: General News, Lifestyle, Retirement, Women, Business, Insurance and more. We also post a minimum of 15 new social media-friendly images each month … including Financial Soundbytes, Inspiring Quotes, and Holiday Greetings.

Stay "socially active" without
spending all day online.
We all know that maintaining an active social media presence has become part of the landscape for today's Financial Professional. But posting something new and engaging on a regular basis can be cumbersome and time consuming.
Our automation features allow you to pre-select what you want to post, for various types of social media accounts. You can hand-pick and pre- schedule each post for a future date, or … let the system post for you – what you want, when you want, where you want. It couldn't be simpler.