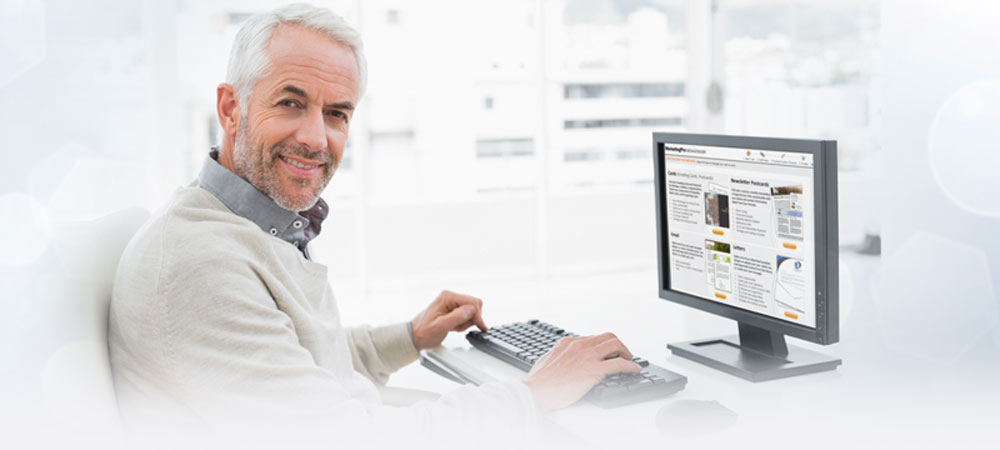 Marketing automation for the Financial Professional
Do more, and be more effective, in less time.
Keeping top-of-mind is key for Financial Professionals, for both the growth and maintenance of a successful practice. From prospect nurturing to client relationship management, a steady stream of worthwhile communication is absolutely essential.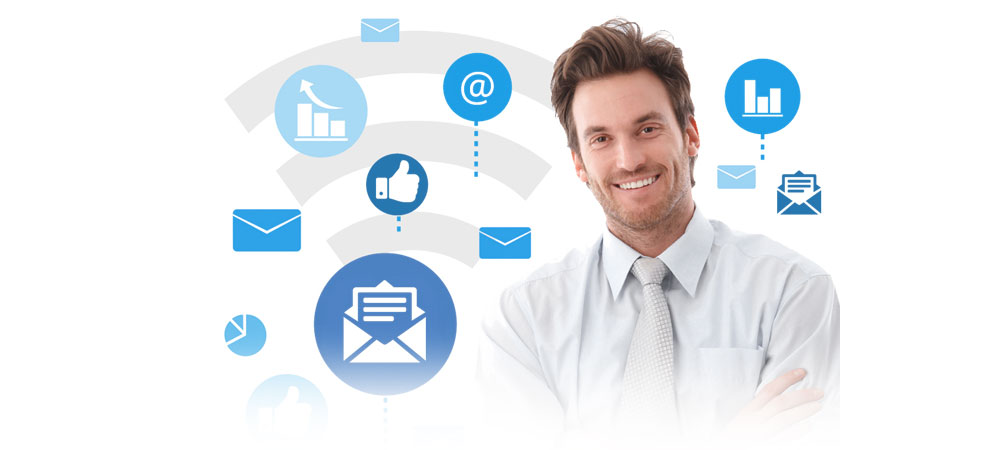 Automation is the key.
Too many Financial Professionals spend too much of their time writing and sending out marketing and communications. Others spend too much of their money hiring outside help to do it for them. Marketing automation allows you to spend less time, yet do much more.

What is it? In a nutshell, it's working smarter, not harder. Developing a robust, ongoing marketing and communication plan, and utilizing technology to execute it for you – so that you can focus on why you got into this business in the first place: to help your clients.
"Set it and forget it." It's not a hands-off approach. It's a hands-ON approach… with thousands of extra hands.
"The biggest benefits of marketing automation are saving time (74%), increased customer engagement (68%), more timely communications (58%)"
SOURCE: Adestra [tinyurl.com/zo4vmog]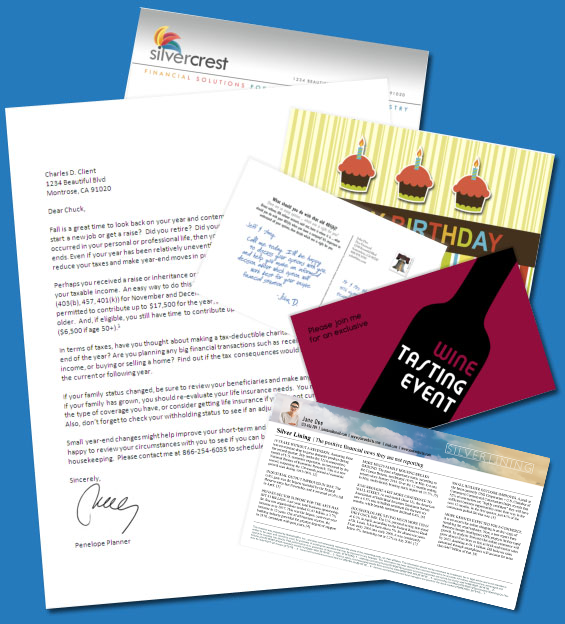 Features and functions of the MarketingPro automation system
MarketingPro was developed exclusively for Financial Professionals to be the turn-key, full suite of services they need to grow and/or maintain their practices, including …
A constantly expanding library of professionally prewritten content
Fully automated client and prospect campaigns (both custom and pre-built)
eNewsletters, Weekly Updates, Monthly Newsletter Postcards
Automated email and direct mail (greeting cards, postcards, letters)
Contact management features and contact grouping
Social media marketing dashboard
Compliance integration for pre-review of content
Customizable templates and personalized handwriting font
Analytics to help measure campaign effectiveness
The full range of tools, content, and compliance to help you succeed and save time.
"Relevant emails delivered through marketing automation drive 18 times more revenue than email blasts."
SOURCE: Jupiter Research [tinyurl.com/j248en5]
What can marketing automation do for your practice?
Generate Referrals
Convert Prospects
Increase Client Satisfaction
Grow Revenues
Decrease Marketing Expenses
Save Time
Marketing automation is simply an essential tool for today's Financial Professional. Clients and prospects want more – more meaningful contact, more nurturing. Whether to seek out qualified prospects, maintain existing client relationships, or both, marketing automation is the key.
"Companies that excel at lead nurturing generate 50% more sales ready leads at 33% lower cost."
SOURCE: Forrester Research [tinyurl.com/he28xbn]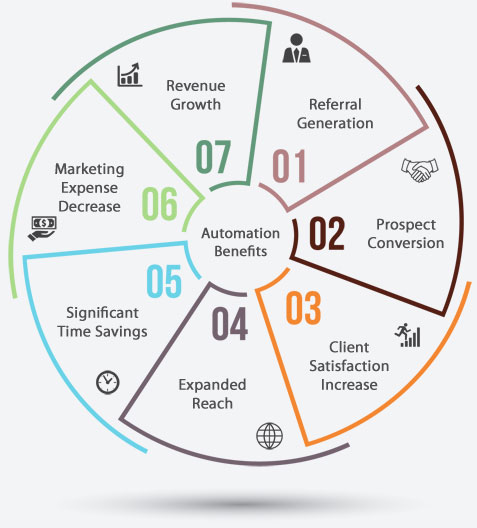 How has marketing automation helped others in the industry?
"With the help of MarketingPro, my revenues have greatly increased- increasing along the lines of 9-10% per year. Utilizing the tools and content within the system has been a smashing success."
Michael O.
Columbia, SC
"MarketingPro has helped my business immensely, and everything works as advertised. I am just amazed at how much my contacts have come to expect and enjoy the regular communications I send to them. It's a great way to keep in regular contact without always having to make that personal phone call. It helps my clients feel connected to me."
Chuck R.
Grand Rapids, MI
"I send most of my correspondence to my clients and prospects via email, and the compliance integration makes that very quick and simple. My Broker/Dealer can approve everything I send out directly through the system, which saves me time. I don't have to reinvent the wheel."
Rita W., St.
Louis Park, MN