Start Your FREE TRIAL Today
Enjoy a full month of risk-free access to our flagship service, MarketingPro, and witness firsthand just how powerful content marketing automation can be for your practice.
It's everything you need to grow and maintain your practice...
The industry's most robust library of professionally pre-written content
Built-in compliance review**
Automated email and direct mail
Fully automated Campaigns
Full-color greeting cards*
Newsletter postcards*
Personal handwriting fonts
Letterhead on demand
Built-in contact management
Social media integration
and MUCH more
*Should you decide to send direct mail from the system, please note that the cost of printing/postage is additional, and not included as part of the free trial.
**If your Broker/Dealer supports the system (hundreds do!)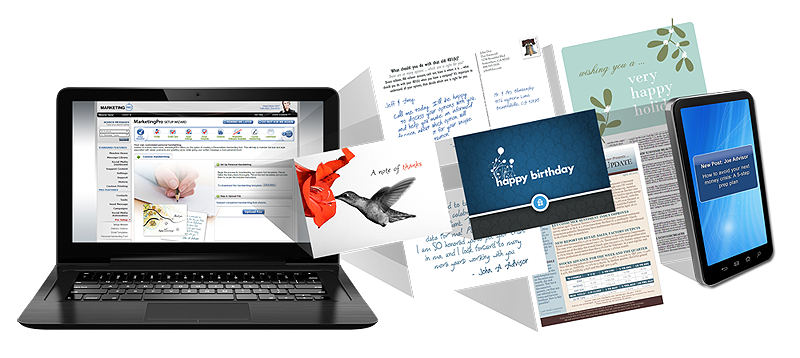 "My subscription to MarketingPro has helped increase my practice, generate new clients, and gain referrals. All of this from campaigns that took me two minutes to set up. Not bad at all!"
D. Mendez, NY

"Without the automation that MarketingPro offers, I could not accomplish the kind of ongoing, weekly contact that I want to maintain with my clients and prospects. If I had to manually write, prepare and send these emails out every week, it just wouldn't happen. MarketingPro really saves time."
R. Altemeyer, FL

"[It] has helped my business immensely, and everything works as advertised. I am just amazed at how much my contacts have come to expect and enjoy the regular communications I send to them."
C. Rushmore, MI